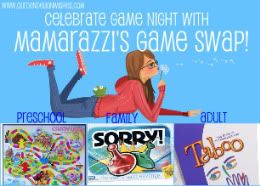 This month, I participated in my first ever blog swap hosted by Mamarazzi. I had a blast
Kellyn sent my family a fun and thoughtful package. Thank you Kellyn and family! Our package included the following:
1) Pass the Popcorn

(This looks like a fun game, but I will definitely have to study before playing it with my hubby though because he is definitely the movie buff in our household.)
2) Popcorn

(My hubby opened it before I had a chance to take a photo of it; thank goodness for tape!)
3) Memory

(I have been wanting to buy this game for Caden; I can't wait to teach him how to play it!)
4) Goldfish

(One of Caden's favorite snacks!)
Participating in Mamarazzi's Game Swap was definitely fun; I can't wait for the next swap!